DJ Intelligence has launched a new feature to help you get more leads & bookings and keep clients within your network of friends and colleagues. With this feature, the
Availability Checker Referral Network
, you can now create your own lead generation network by automatically referring other companies who are available for an event date when you are not, and vice versa. Simply let the DJ Intelligence system know the account names of those companies you wish to refer. Then, when a prospective client checks your availability, if you are not available the system will automatically check the availability of the other companies you selected, and present the prospective client with a list of available companies, including full contact information. If the prospective client follows the provided links to request information from one of your friends or colleagues, your company name will appear as the "source" of the lead so you can get credit for the referral. This is a great new feature to help you keep your valuable leads within your own network of friends and colleagues, and help each other book more business.
To Setup
1. Log in to your account
2. Click on Advanced Settings
3. Find the section titled
Refer Other Companies When Not Available
(seen below)

4. Enter the account names of the subscribers that are within your local referral network. Separate each by a semicolon as instructed on screen.
5. Save Settings at the bottom of the Advanced Settings screen.
Now, when a date is checked that is blacked out - those within your referral network will be referred as shown below: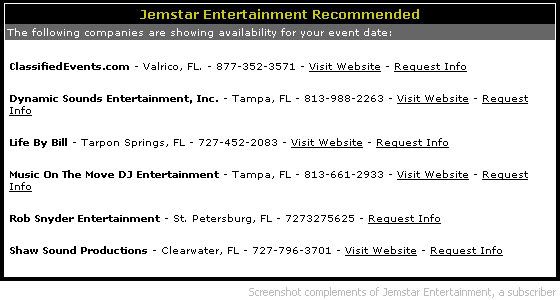 Please feel free to
contact us
for further explanation, clarification, or assistance.